7th Wave was established in 2006 by Jen Kneale. Jen learned to sail at the age of 8 years old, influenced back then by Tracey Edwards and the girls on Maiden.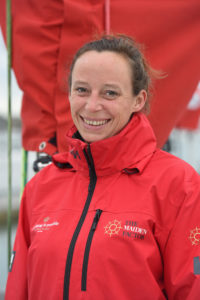 Her sailing career has seen her represent the island and Great Britain at Laser World Championships. She has crossed the Atlantic twice and competed on offshore races including the RORC Caribbean 600.
This lifelong passion is shared with everyone who wants to get on the water and try sailing or powerboating. She has changed the lives of many young people through this sport and is so happy to be able to provide access to watersports on the Isle of Man. 7th Wave has been providing sailing tuition in Port Erin for 17 years now, and these days Jen spends the winters training Boatmasters in the Caribbean!
Whether you are taking to the water for the first time or looking to progress into a career in watersports or the maritime industry you are in good hands at 7th Wave.
7th Wave is an RYA Recognised Training Centre, offering dinghy sailing, powerboat and shorebased courses, in Port Erin, Isle of Man.
We also offer plenty of action-packed activities for young people.  In the summer holidays our Youth Sailing Weeks are wildly popular, with activities running every day from 10am to 5pm. Our courses are all about having fun, making friends and enjoying the great outdoors under the supervision of our qualified instructors who will ensure that all this fun happens in a safe environment.
We invest in the young people who join us for activities by offering work experience, Duke of Edinburgh skills and service opportunities, assistant instructor training and many other transferable skills for the future.  Youngsters can begin by learning to sail at the age 8, they can work their way through the RYA Youth Sailing Scheme.
7th Wave is also the home of the Manx Youth Sailing Squad which provides high level race training and the opportunity to compete at UK events.  The squad consists of Tera sailors, all of whom are invited to join the squad by the coaches.  The Squad can boast some great results including two World Champions!
Jen holds an BA(Hons) in Maritime Leisure Management, has over 20 years experience as an RYA Instructor.  In 2017 she crossed the Atlantic, teaching herself celestial navigation along the way.  After sitting an exam in Antigua Jen gained the RYA Yachtmaster Ocean qualification.  She is also a Powerboat Instructor and Yachtmaster Instructor (sail) and spent 15 years with Port St Mary Lifeboat.