Yesterday was the kind of day that most of us Irish Sea dwellers would have elected to stay firmly onshore. But not Stick Daring, I helped him launch from Purt Verk in Port St Mary, Isle of Man at 10am, sending him out to cross the Irish Sea on a 43NM trip to Holyhead.
Stick left Eastbourne on the 17th July and is sailing anti clockwise round Britain. He's survived surf beaches, overfalls, doldrums and big breeze on his trip so far, with what sounded like some pretty hairy moments around the Scottish coast including a brief encounter with some orca.
He arrived in Port St Mary on Tuesday afternoon, my friends in Ramsey had asked me to look out for him, so when the sailor arrived from the sea I was able to give him food, drink, hot shower, wifi, a bed for the night, chart and almanac and some passage planning help.
My unexpected visitor and new friend set out to sea again yesterday in a decent blow with some big old waves, I spent all day wondering if I would be the last person to ever see him!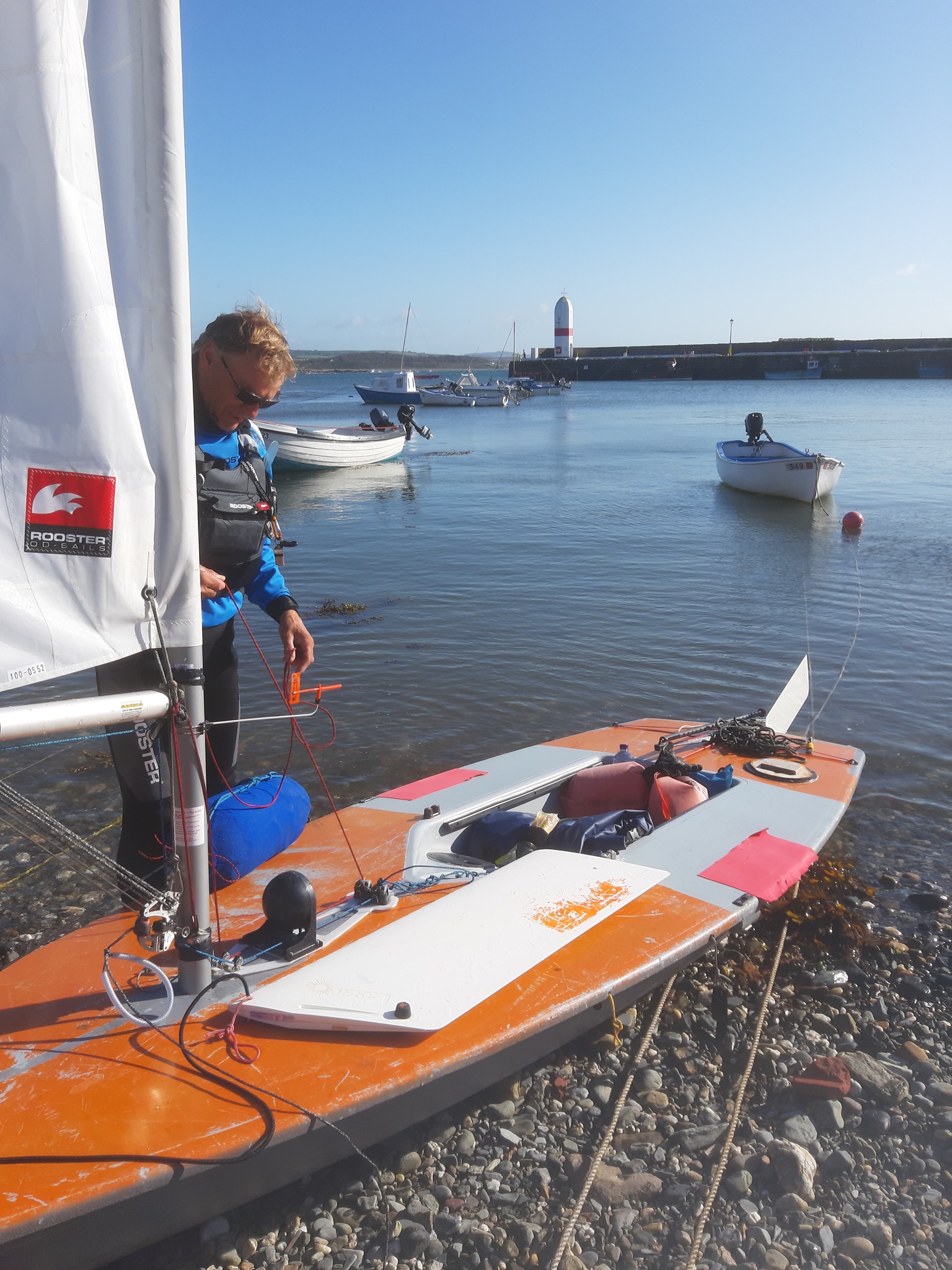 Just after 3pm my phone rang… it was Stick! The line was a little broken but I heard his message "Lost comms with coastguard, VHF died, call you call Belfast Coastguard for me". I duly did, the lady in Belfast Ops room asked if I was his designated person ashore. "I guess I am, I hadn't met this fella until yesterday, but it was me that helped him out to sea today" I replied. We were all happy to hear the update "10 or 12 miles off Holyhead". What a trip!! 30 odd miles in 5 hours in a Laser!!
Around 5pm my phone rings again…. "Where is the RNLI station in Holyhead", now I'm in Shoprite trying to act as a Holyhead pilot for a chap in a Laser. I hope he found Holyhead Lifeboat Station – RNLI and had a good night's rest before carrying on the next leg.
Stick was a welcome visitor here, I am so happy to have been able help in some small part on his adventure and grateful to have had a brief opportunity to hear some of his stories of sailing, life and living. "I hate the phrase 'can't be bothered' " he said.
That Laser looked very small as it dropped below the horizon.